The Variations Q and A!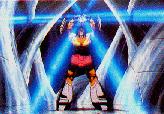 Question: What is a "variation"?
Answer: A variation (in TFs anyway) is any difference between two or more similar Transformers. Or a deviation, if you prefer, from what is considered 'standard' for that particular TF. This can be a running mold change, a part change, a color change, or even a change in the package! We do it all! Most changes are done on-purpose, it is thought, to improve the toy or the manufacturing process in some way; but a few are 'errors' that slip by quality control. Then, of course, there are the endless recolors and special editions and...
Question: What causes variations?
Answer: Too-many things to list here in this small space. We've dedicated entire pages to these theories. Click here to find some of the reasons why variations have occurred. Click here to find out who was responsible, and click here to find out how much blame each of them gets. Further, you can click here to find out who invented the first Transformer!
Question: What variations, 'count'?
Answer: ALL of them. At least, all of them that YOU wish to count. I try to explain that concept in more detail here. It's a long read, and may give you more questions than answers...but that's what it's all about. :-) Enjoy.
Question: Why bother documenting this?
Answer: Because I LIKE variants! :-) And because I was frustrated with attempts to get information about variants, always having to ask about what a certian variation looked like, or what a description meant on the variations list, etc. There were never any pictures; just word of mouth and text descriptions that didn't really help. It took me a long time to hunt this stuff down. Since I already had the information, I saw no reason why others should have to repeat the laborous task that I undertook. Here it is, in all one handy place, with LOTS of pics!
Question: So what can I find here?
Answer: *Everything*. Or at least, everything that we know about. :-) If it's a Transformer, and there was any kind of change, we'll tell you about it. Expanded descriptions, detailed pictures, comparisons of transformers variations from all over the world...you name it. ;-) We talk about everything here, in some way, shape, or form! Hell, you want to see documentation from Hasbro on the history and first year of TFs, we have that too. ;-)
Question: Did you do this all by yourself?
Answer: Heck, no! Thanks go to Rjung for the Complete TF Toy List,'M'Sipher for the original text Variations List, and to Lewis (aworldtransformed.com - Now out Webmaster!) and Derrick (yellowmonster.com) for getting me started with info and pics in the Beast Wars section. Special thanks must also go to Joebot, Crazy-Steve, and Particle Man, for trading numerous e-mails with me, and doing the lion's-share of the work of filling all the holes we found in the text Vari-list. And thanks (and maybe a swift kick in the pants to) jerunski and joebot for partially getting me into this awful variants habit in the first place. Thanks guys! If it weren't for you being so helpful and informative, I'd already have my house paid for. :-) And of course a hearty thank you to all the fine folks of Autocon, the Yahoo-group where the Vari-Quest mailer now resides, for being supportive, and constantly finding new variants for me to document. If it weren't for you guys, this list wouldn't be as complete as it is. There are literally hundreds more people to mention here, and since I can't fit that in all one space, I put small thanks in every Vari-Quest update I do. You'll see their handiwork all over the site.
That's the format. Read on. Resistance is futile. You will be assimilated. Oh, and...please be patient. There's a LOT of pics, so if it's loading slow, give it some time...or buy a faster computer... :-) Kidding!