Care & Repair of TFs


TFs are important to you, otherwise you wouldn't be reading this in the first place. And the type of care you provide to your TF will determine how long you keep it. If mom and dad are buying these toys for you to play with, stop reading now. Come back in a decade. Enjoy endless hours of playtime with them, and don't worry about breaking them or scraping them up. It's a TOY. That's what you do. In fact, I recommend you tell mom and dad to buy MORE, so you can break one with a hammer, and have another one to break with a hammer at a later date... For you age 20 and older types, read on to learn how to keep these toys for a lifetime.

This first section is for loose TFs. Read about what to do with a packaged TF in a later section below.

Care of: Much of how you need to care for the TF depends on how it was before you got it. If it was bought, opened, and stuck on a top shelf for a few years, you are in luck. Buy a can of cfc-free, non-flammable, canned air. This is the stuff that you can pick up at an electronics store for a few bucks. Make sure to hold the can upright, and spray. If you tilt the can, the propellant comes out. If you bought the stuff I suggested, you shouldn't have any problem. If you tried to save a few bucks, and bought the cheap can of air, the propellant will eat away at plastic, metal, paint, and stickers. You will have wrecked your TF. Don't say I didn't warn you! Obviously, you can simply wipe the dust off your toy, but consider: just wiping dirt off your car scratches the finish. Same happens to TFs. Some people like to be anal-retentive. :-)

Did some dust actually stick? Still feel you need to do a bit more cleaning? Perhaps in a small area? Use a small, soft-bristled brush to knock loose the dust while spraying air. If you're still not satisfied, use a q-tip with a dab of water on one end, and carefully wipe inside the crevices. Make sure to use the other end to dry it. Don't leave water behind. If it's a bigger TF, get one of the specialized dry-wipes you use for a cd. Papertowel scratches; yuck. Not much, but I'm picky. If it was some type of sticky residue, get one of the plastic-tipped chamois from the same place you bought the canned air. And pick up a small bottle of vcr tape-head cleaner. It's about the mildest stuff you can get that will clean up the gook and not mess up your TF. Make sure to go back and clean off the tape-head-cleaner residue with a water-soaked q-tip, (or chamois) and dry. Some people have taken to using the lemon-scented clorox wipes. They clean off the gunk, but sometimes leave material strands (which you can blow off when dry).

TF needs a shine? It should be naturally shiny. Did you remember to wash off the tape-head cleaner residue with water? If so, then you can temporarially restore the shine by using polish. Be sure not to use anything petro-based, as this will destroy some plastics.

Repair of: A TF's shine, simple parts repairs, Advanced parts repairs, sticker repair and replacement...even reconstructing boxes and inserts! You name it, there's a method for doing it. It's different for every TF. Here are some basics below.

Loose Joints: Apply clear coat to the joint, either gloss or matte depending on the surrounding finish. Enamel works better than acryllic, but make sure the enamel won't dissolve the plastic. It's not usually an issue on TFs, since they're made of less flexible plastic than action figures, (see Lees AFN Volume 2 for a description of plastic types) but it never hurts to check by testing an out-of-the-way area. Of-course, you just buy a different toy, but we're not all made of money here...

If you're not comfortable with this method, and want to try something less invasive, take note that certain joints, like those on a G1 Grimlock dino-leg, can be simply and quickly tightened by removing it and wrapping a small piece of scotch tape around the nubbin. This is good for toys that are played with, but do NOT pass off a taped unit like this to another collector. It is...unprofessional.

Broken Parts: Well, if it's broke, fix it. :-) There's a different repair for every bot, needless to say. Basically, when it comes to repair of your TF, nothing is better than an original part. No matter how well you clue, clip, weld, or bind a piece, it's still fatiqued, and has a chance of breaking there again. Plus the unsightly repair line you have to contend with! So if possible, don't glue, replace! With some TFs, this is easy...like arm joints to Jetfire. Those get replaced all the time! With other TFs, like Prowl, et all there's not much chance of finding a good repair part...the windshields break on everyones. So unless you're combining two units to make one good one, you may very well be stuck with a glue job. use just a small drop of clear super-glue. More than that and the repair line will show up worse. And always remember, no trying to pass repaired units off as intact ones! People will get mad at you.

(Editor's Note: When swapping parts on units, make sure you are using two units from the same year; ie if a G1 Prowl, then use another G1 Prowl of the same type. Not all parts are interchangeable, as there were many mold-changes...to say nothing of reissues...so keep a keen eye out on this! For more information, see variants.)

As always with taking apart tfs, you may have to peel back, slice or puncture stickers. There's simply no way around some type of damage. All I can recommend on stickers is listed in the next section.

Yellowing: Depending on the cause, efferdent tablets, or isopropyl alchohol are helpful. If it's due to a smokey environment or other staining factors, than this will usually work very well. If it's caused by UV exposure, you have to either remove part of the surface (VERY difficult) or paint over it. I have personally tried both of these methods...I stripped and repainted a Sideswipe, and I took the advice of a friend on scraping a thin layer of plastic off of a Ratchet, and then buffing it...both methods work, but I don't recommend this for novices. Better to just buy a different toy if it's in this bad a shape. Use the crummy toy for a kitbash.

For me, what I've found works very well is soaking the offending pieces in hydrogen peroxide for a few weeks. I kid you not! Obviously, for a toy, you'll have to get some repo stickers (available everywhere these days) but take a look at these G1 accs that went from dark yellow to bright white: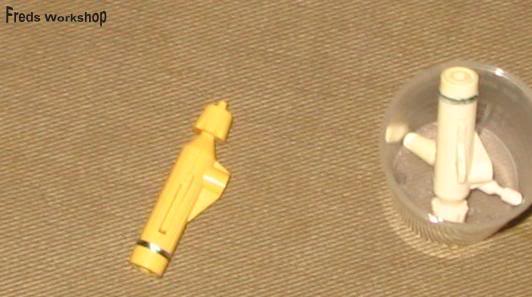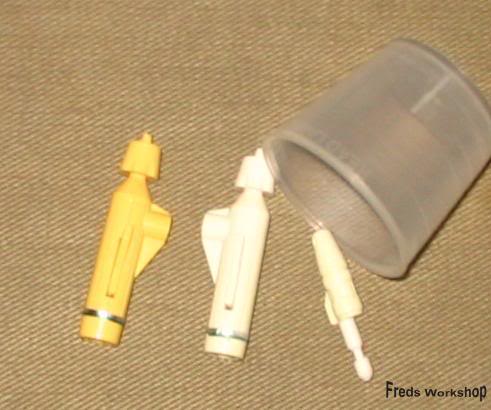 Need I say more?


"Smokey" Smell: What fun; toys that obviously came from a smoker's home. They haven't been there long enough to seriously discolor, just a slight surface sheen, but they stink badly, right? Thanks to jj forbus; I had never thought to try this until now! After cleaning the surface with isopropyl alcohol, put the toy into a plastic container, such as Tupperware, for about a week. Afterwards it will smell like it came right off the assembly line.

Sticker Repair and Replacement: Sticker repair and replacement: Did you read the care-of section on this? If you care for the sticker, you won't have to repair it. About the only repair you can do is place some new double-sided sticky on it, and re-attach it (assuming it isn't ripped). Replacement with original is no-longer commonplace, as suppies of 15+ year-old sticker sheets are dwindling. :-) You could buy a reissue toy for the sticker sheet, but that seems expensive. Delta Star (repolabels) makes excellent cost-effective replacements now. I've purchased some of the Sticker Restoration Kits, and I find them to be highly useful. They even have the factory-only labels! In most cases, these are better than the originals. Give them a shot.
Reconstructing Boxes and Inserts:
Boxes: I haven't but one guy makes these really neat minibot boxes. I wish I could remember who it was.

Inserts: The easiest way to do the styro inserts is of course to simply replace them. You can use new styro, and carefully trim out the insides to custom-fit your toys and accs. Then slide the new styro in the box. Presto! It is recommended that you use a soft styro for this project. Check on the density numbers when you go to the local polystyrene manufacturer. These guys are great when it comes to large-scale custom jobs. One fellow rebuilt my fortmax box using the shattered remains of the old one! Chances are, you'll be doing small boxes on your own, so ask for the soft-stuff...

The other method was one I'd seen used on toys a few years ago. Some fellow apparently cut out a piece of thin cardboard, got ahold of some clear plastic, and used a hairdryer to melt it around the toy. When he was done, he glued the plastic to the cardboard. Instant new insert! The problem? I don't know what type of plastic he used, so I can't recommend this method. If you have any info on this, please LMK, and I'll try it for myself before posting.

Saving TFs From Chrome-Flake: This came up first as a series of posts on the newsgroup by BW Sidecutter. A response to a second series of questions is posted here for your review. The post references Primal Prime, but can be applied to all TFs with similar vac-metal construction. The issue at hand is that these components suffer from fatal particle-flaking, not just from play, but from some type of percieved manufacturing defect.
(See Also: Saving Your Chrome and Metalflake)
(See Also: Chrome and Rubber Issues)