I was lucky enough to have Scott McNeil set up shop for autographs the first day right next to my booth! Who-hoo! I got to see all his interaction with the fans, and the improvs with all his "voices" arguing with each other at once. The man is a genius. Normally, I'm not into autographs, but...for Scott, I made an exception. I had him sign Rattrap, and a Silverbolt that I was going to sell, but pulled from inventory for this special occasion. Needless to say, with the funny thing he wrote on it, I think I'll be keeping it. :-) In addition to his signature, he scribbled, "I am fast, strong, pure...and dumb as a post." Too funny!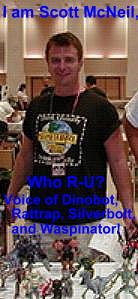 Now, what did I think about the rest of the convention? Beast Machines preview, and the like? You mean there was something going on outside the dealers room? Ack, I did it AGAIN! I had so much fun there, that I really didn't go to anything else. Like I always say, what could be more important than the toys? Well, I finally have an answer: the friends. Like finally meeting in-person the one, the only, (and a fellow Wisconsin Transfan)...Skyjammer! Who-hoo! Next year, we should actually spend more than 5 minutes talking before we run off to do our things...

More on the way, as I add it...more on 99, and a blurb about my 2000 plans...of which I have many. Like BEING there, for one! You should be there, too. It will be an excellent time, yeessssss...click here for a look at the BotCon 2000 toys, and a sneak preview of an upcoming Beast Machines figure!

And of course, like everyone else, I hear rumors! This was one of the more interesting...like 98, there was something fishy going on with 99's convention. If you want to be let in on rumors of some behind-the-scenes maneuverings of the TF Militia at BotCon, you can take a peek here. Heck, for all I know, this may have been part of the secret project that Phil wouldn't tell me. Who can know? Not me; I only work here...