Dairycon 2009 Exclusive!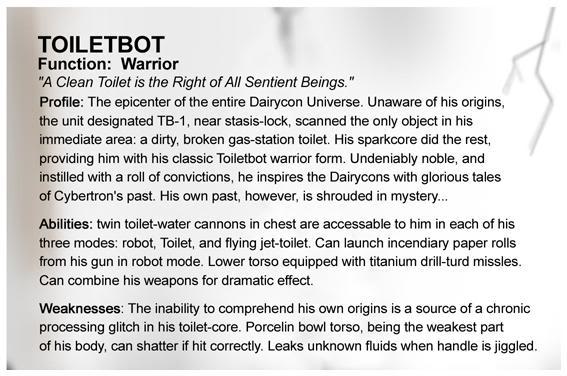 Allegiance: Dairycon
Name: ToiletBot
Function: Warrior

Quote: "A Clean Toilet is the Right of All Sentient Beings."

Profile:
The epicenter of the entire Dairycon Universe. Unaware of his origins, the unit designated TB-1, near stasis-lock, scanned the only object in his immediate area: a dirty, broken gas-station toilet. His sparkcore did the rest, providing him with his classic Toiletbot warrior form. Undeniably noble, and instilled with a roll of convictions, he inspires the Dairycons with glorious tales of Cybertron's past. His own past, however, is shrouded in mystery...

Abilities:
Twin toilet-water cannons in chest are accessable to him in each of his three modes: robot, Toilet, and flying jet-toilet. Can launch incendiary paper rolls from his gun in robot mode. Lower torso equipped with titanium drill-turd missles. Can combine his weapons for dramatic effect.

Weaknesses:
The inability to comprehend his own origins is a source of a chronic processing glitch in his toilet-core. Porcelin bowl torso, being the weakest part of his body, can shatter if hit correctly. Leaks unknown fluids when handle is jiggled.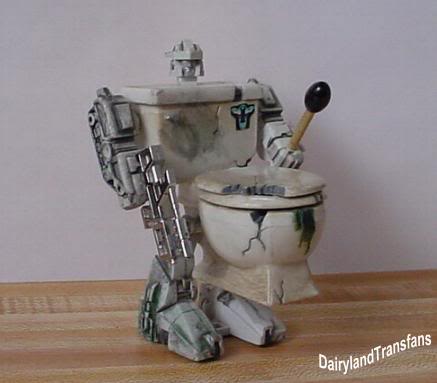 Boxed
|
Back of Box
|
Vehicle Mode
|
Hidden Storage
|
Easter Egg
Accessories
|
Accessories (Combined)
|
The ToiletBot Dance
|
Easter Egg 2
Robot Mode (Side)
|
Robot Mode (Front)
|
Easter Egg 3
|
Easter Egg 4