The Next Day...

Lewis: "Also known as Thursday."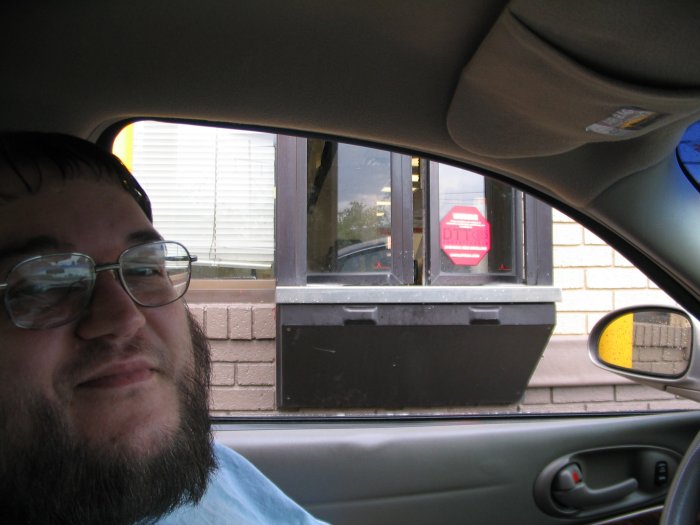 Fred: "I don't remember for sure, but I believe this was the stop for oatmeal the first morning. Or am I wrong?"

Lewis: "That was it, the Burger King that had oatmeal, then didn't have oatmeal, then did have oatmeal, then gave you two oatmeals. It was almost certainly the more interesting meal of the trip."

Fred: "It was hard to stay properly nourished. Although I did make a detailed list of everything I ate."

Lewis: "With Maps!"

Lewis: "We made several wrong turns after this on Wednesday morning, but it had the inadvertent affect of us stopping at a Target that we had driven past and elected to skip. Here we found Prime Deluxe Beast Hunters Arcee, Knock Out, and Vertebreak. Sometimes a poor sense of direction isn't a bad thing. And speaking of a poor sense of direction..."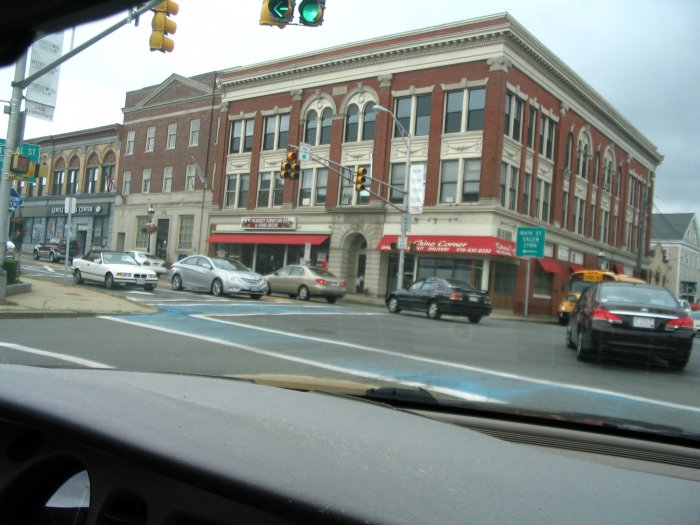 Fred: "Salem. If you believe such things, there be witches afoot. I can't speak to that (to me, it looked like anytown usa), but I can tell you that Harrison's is cursed:"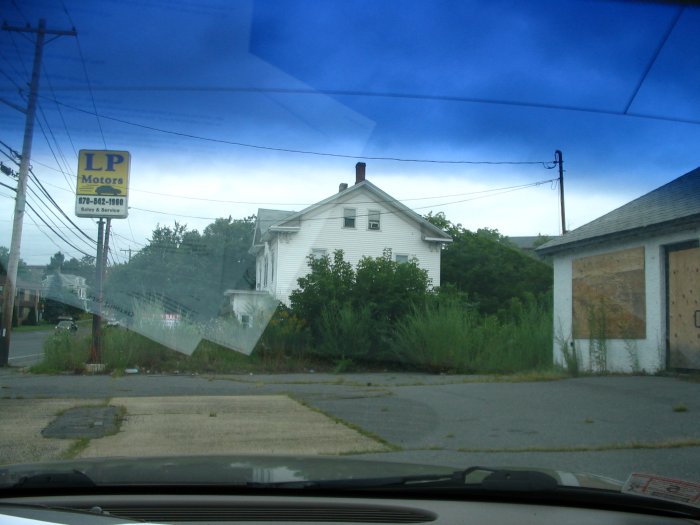 Fred: "Oh, wait, that's not Harrisons, that's LP motors. They're out of business."

Lewis: "Typical. We needed gas."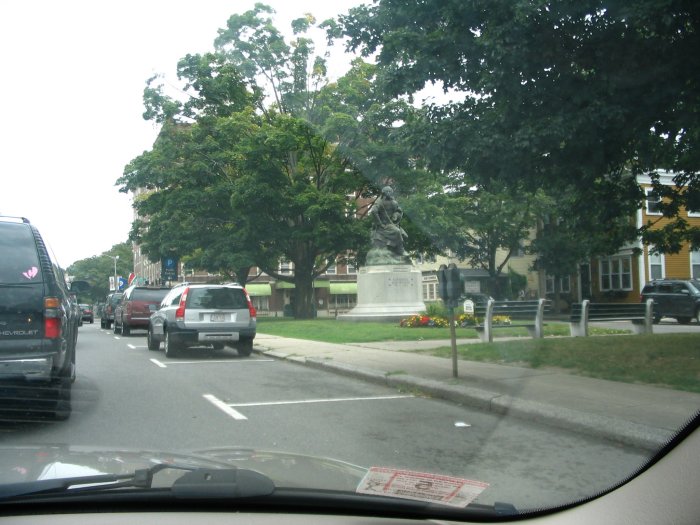 Fred: "The Nathaniel Hawthorne monument. You can Google for more info."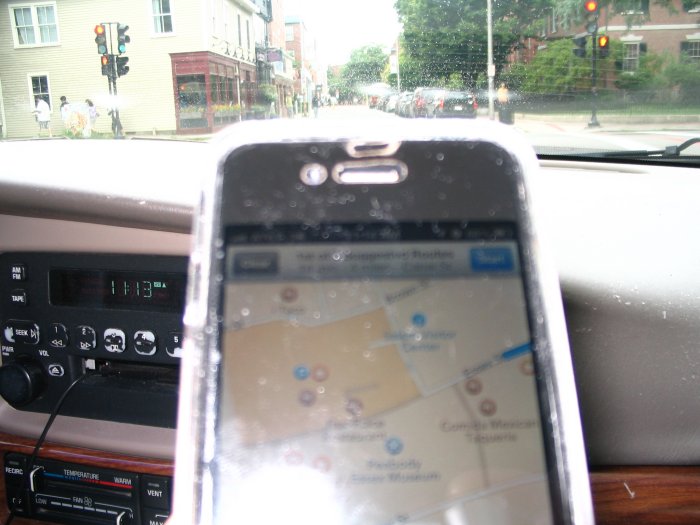 Fred: "Almost there. The map kept trying to drive us the wrong way down a one-way street."

Lewis: "That may have been due to a finger accidentally telling the map that our destination was actually in a different place than it really was on the map. However, the finger in question could not be... identified. You'll note the time in the photo, 11:13 AM. We were only about 90 minutes late at this point, and I was on the verge of a Hate Plague like episode. The plan was flawless, the execution had a lot to be desired."

Fred: "I'd suggested parking and just walking, but technology would not be denied!"

Lewis: "And if I had tried to walk that far, Fred would have had to carry me."

Fred: "That we would have had to get photos of."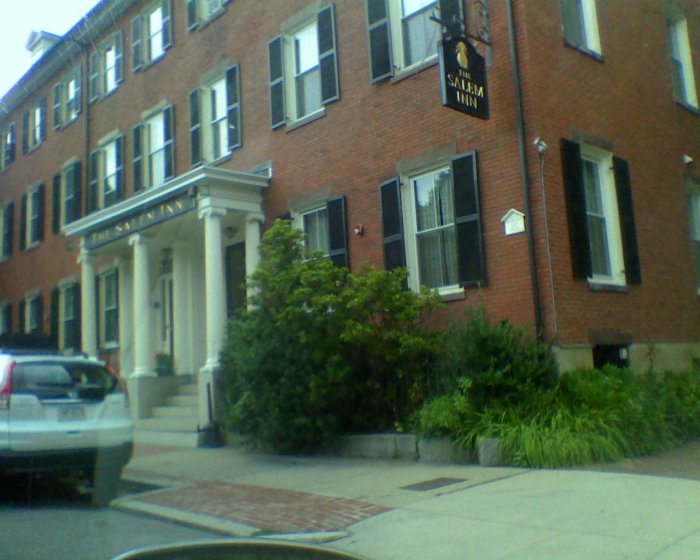 Frerd: "The Salem Inn."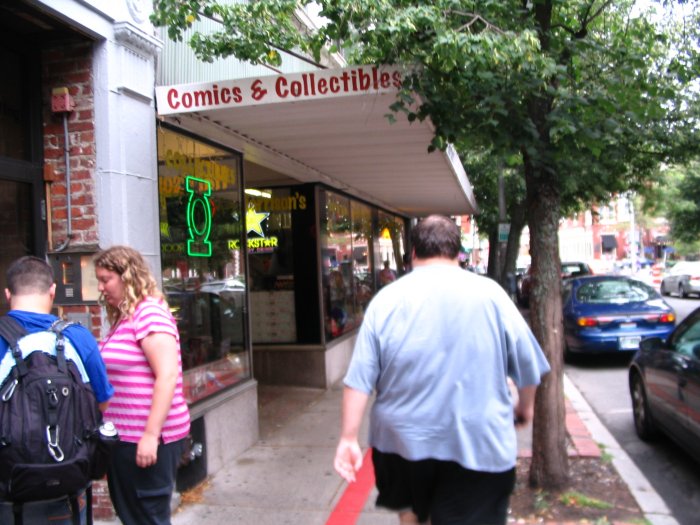 Fred: "And here we are, after going around in circles. (You will find that going around in circles and sitting parked on interstate highways for hours at a time are the favorite pastime of the Massachusetts motorist. Seriously, they have picnics out there. More on that later.)"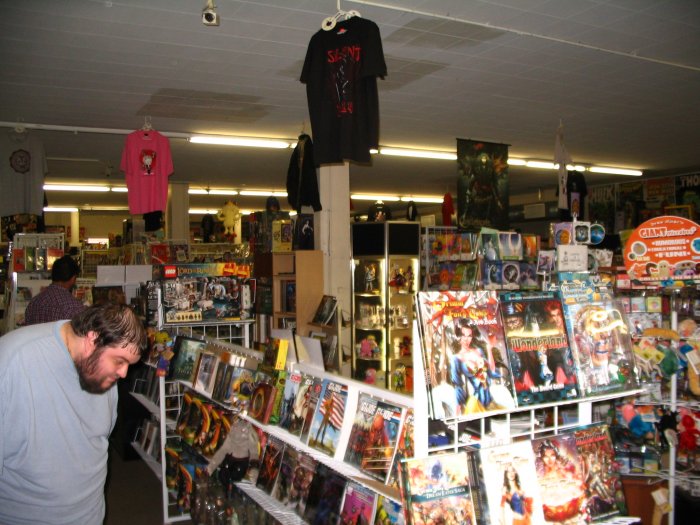 Fred: "It's big for what it is. Kind of like if Westfield Comics were double in size and had more old and foreign stuff mixed in."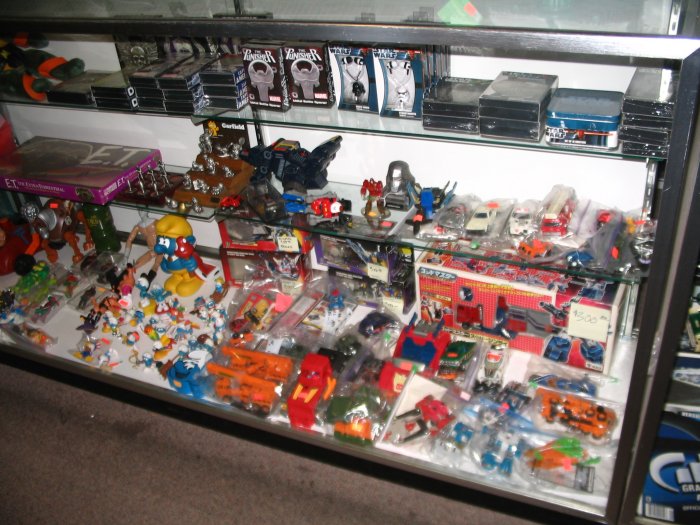 Fred: "Yep, they had a Transformers case. Zoom in on the pic and you'll see why they still had them. I'm not going to pay 40 bucks for a 2 dollar Jumpstarter, nor am I going to pay 25 dollars for a 5 dollar Hoist missing everything. I'm glad they were there. This kind of thing doesn't make me angry; it makes me laugh. Clearly, there is a different sense of the TF market in this place (much, much more on that later, see the Raythem Flea Market section). The Internet really has changed everything, at least for me. That's why trips like this are so important. I'm tickled that there are still pockets of vintage TFs to be found. Three cheers for the tourist trap!"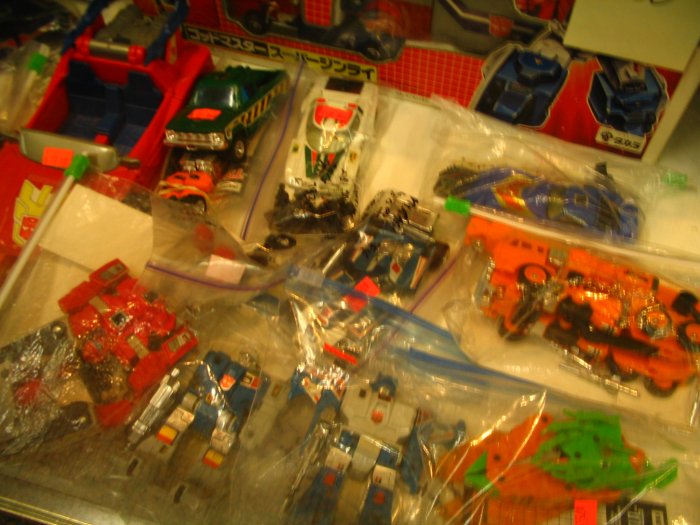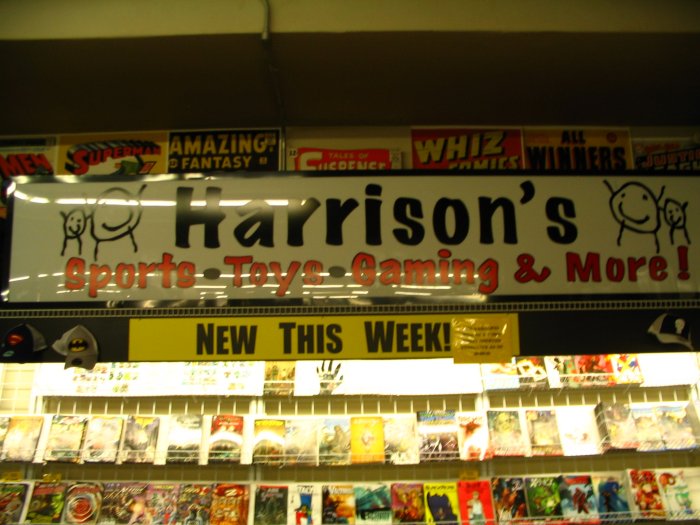 Fred: "The sign for his old place, now inside in the back. As I said, the place has plenty of space. I was tempted to bring back a number of foreign posters to films I'd enjoyed (Transformers the Movie in Greek, anyone?) but alas, I've long passed the point where I have walls to hang things on."

Lewis: "That's why my posters are all in tubes, the walls have too many toys hanging on them, and putting toys in the tubes would be silly."

Fred: "Didn't some 2007 movie toys come in tubes."

Lewis: "Exactly."

Fred: "Right..."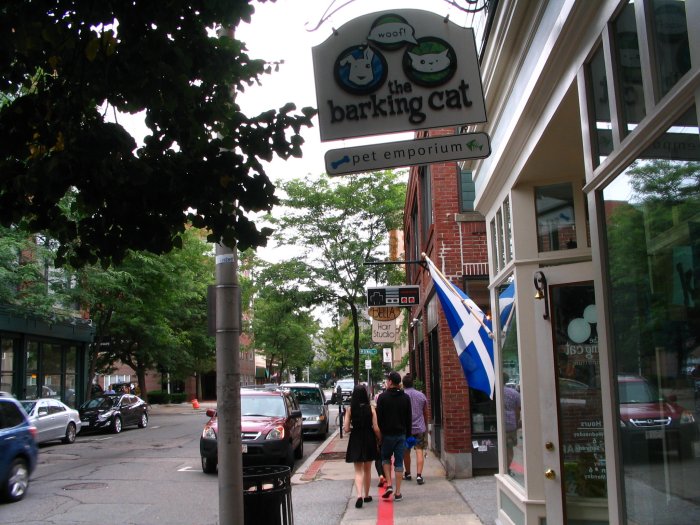 Fred: "The area has a number of interesting shops. I was tickled by the game console that was a sign for the game shop next door. Talk about hanging out a shingle."

Lewis: "Can you imagine hitting Up-Up-Down-Down-Left-Right-Left-Right-B-A-Start on a controller that size?"

Fred: "Alas, there were places to be, so we did not stay any longer in Salem than we had to. Onward!"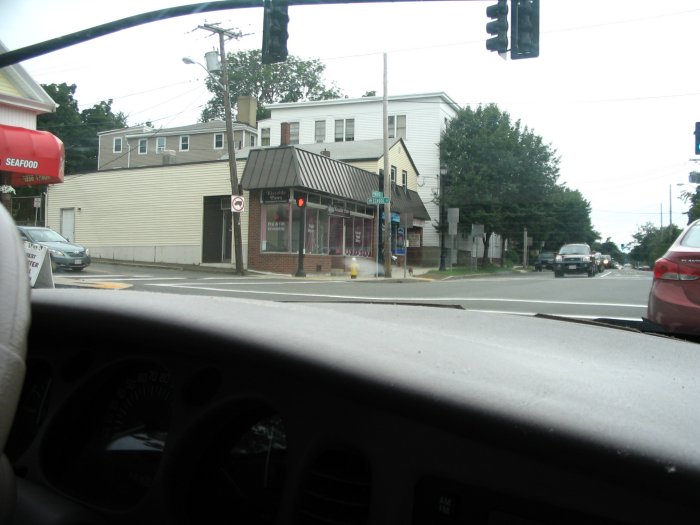 Fred: "The previous pic had The Barking Cat as a pet place. We also passed one called Kissable Paws. Seems like animals feature prominently in this town. Hmmm."

Lewis: "Soft kitty, warm kitty, little ball of fur. Happy kitty, sleepy kitty, purr purr purr."

Fred: "..."

Lewis: "Haven't you ever watched The Big Bang Theory?"

Fred: "Moving on..."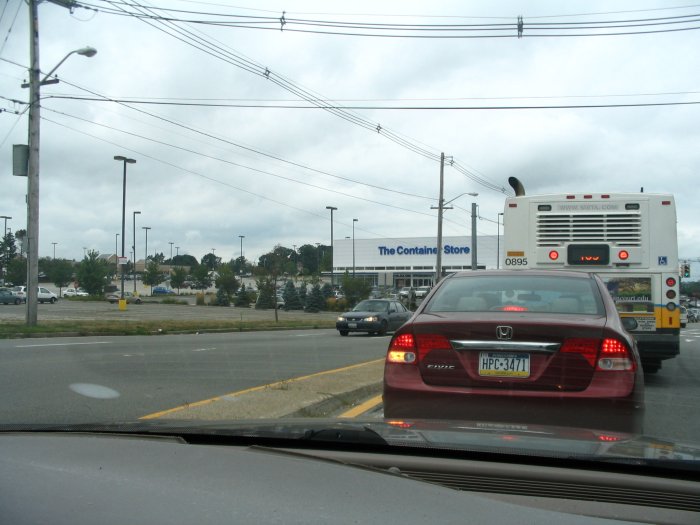 Fred: "The Container Store! I love this place. I drove 3 hours to get to the one in Illinois (near the Ikea sports dome) and walked out with two grocery bags full of plastic stands. Now I find out that there's one just a convenient 7 hour flight across the country, too! Wow!"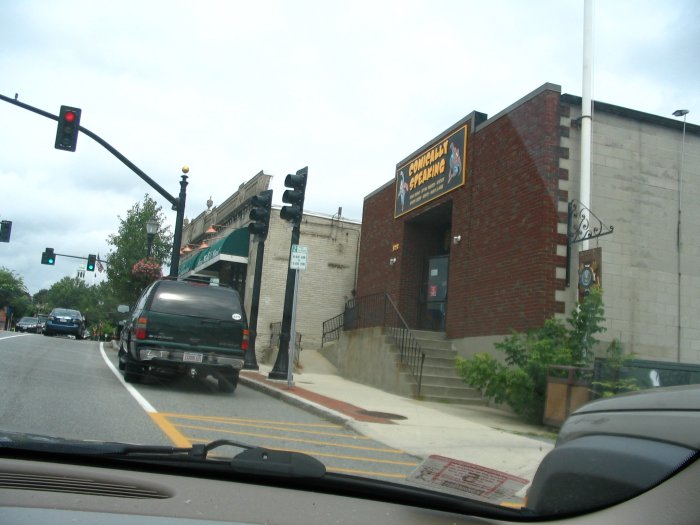 Fred: "Comically Speaking!"

Lewis: "We spent a while here sifting through the toys bins that were 3 for $10. I picked up a couple of Silverhawks for the sake of nostalgia. If I remember correctly, Fred got a shell for a Pretender Monster."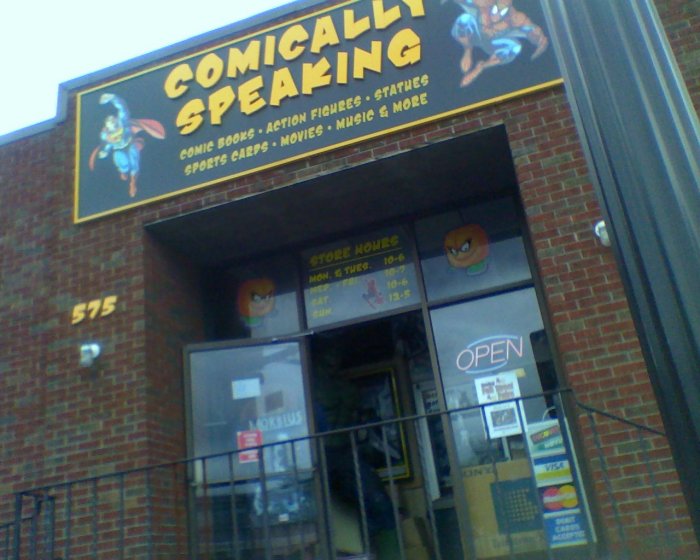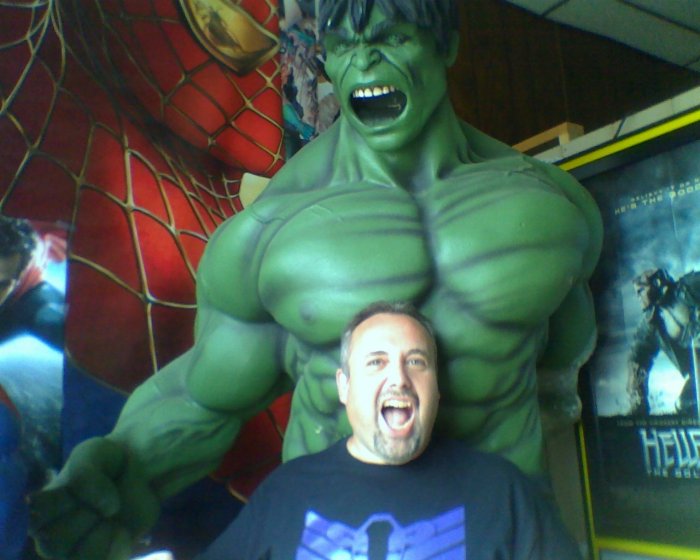 Fred: "Raaar! This is what we say to Gobots fans. (If that is not topical enough for you, just insert 'Twilight' in-place of Gobots. Same thing.)"

Lewis: "Comically Speaking has been in at least five different locations in the last ten to fifteen years. I've been to it in several locations including Arlington, Billerica, and across the street from the current location. They used to have multiple stores, but I think this is the only one now. It's big and the selection is pretty good, but I don't often find things there for me."

Fred: "Onward..."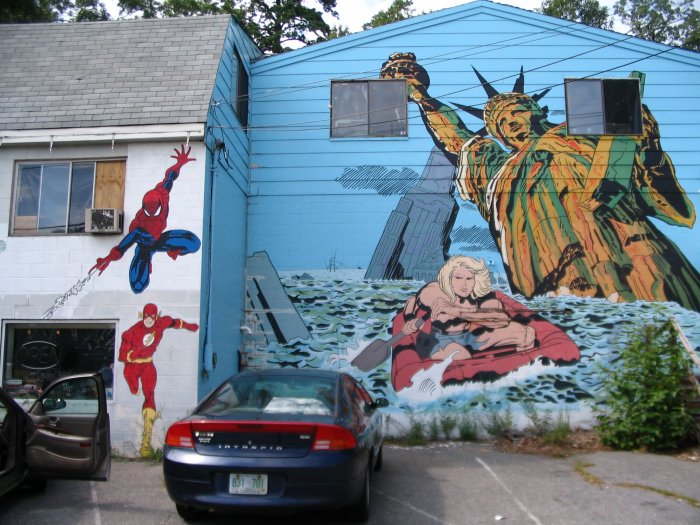 Fred: "Command-D comic shop! This shop was by far my favorite. It was not the biggest one, nor did it have the most stuff. What it *did* have was a friendly owner with a sense of humor. For those who don't know the meaning of the giant mural of Kamandi over there, and how it relates to this shop, well, I can't explain it. But it's very clever."

Lewis: "I can attest to how much fun Fred had here. He was haggling like crazy."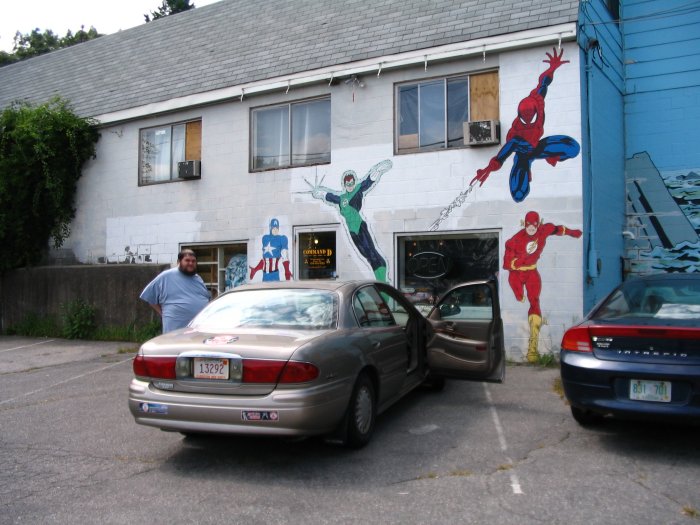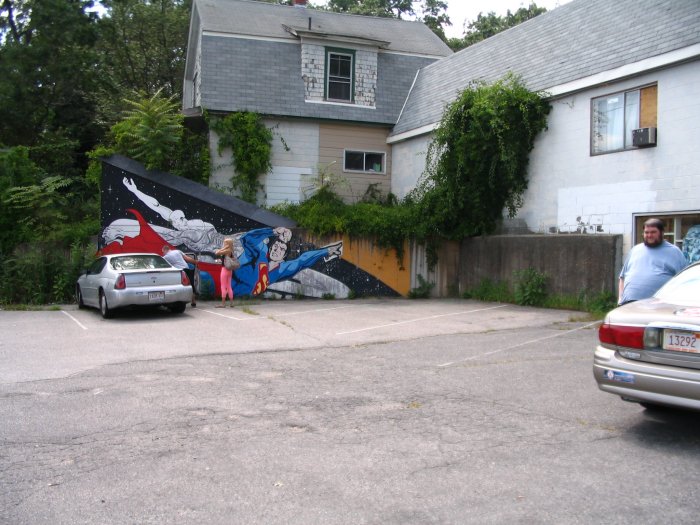 Fred: "More murals. This place is great. You may also notice the hot pink pants if you like."

Lewis: "But I'm not wearing pink pants."

Fred: "Moving on..."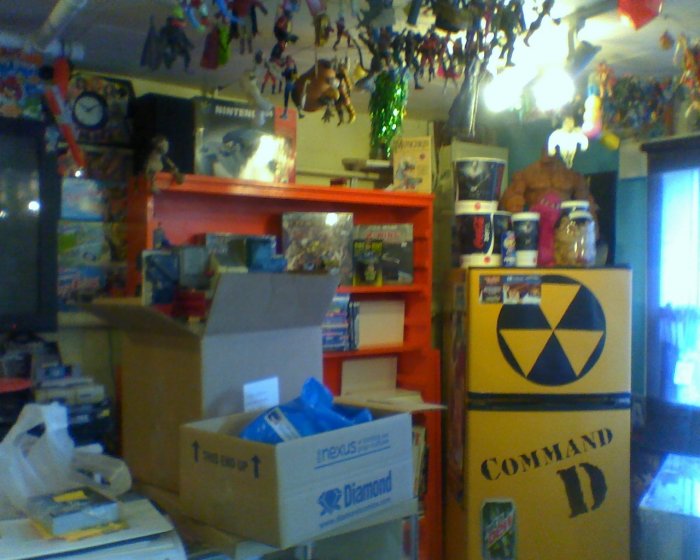 Fred: "This pic does not do the store justice, but you can get a small flavor. My favorite part of the place (other than that cool refrigerator) was that a lot of the toys I wanted to buy were hanging by wire off the ceiling. You unhook the toy you want and make an offer."

Lewis: "I picked up a Titanium Indiana Jones Biplane. That's what happens when I can't find anything I really need for seven consecutive stops. Pretty cool for $3 though."

Fred: "Among other things, I came home with two vintage Ironhides for a couple bucks each. My luck was looking up. New recruits into the Workshop are always welcome."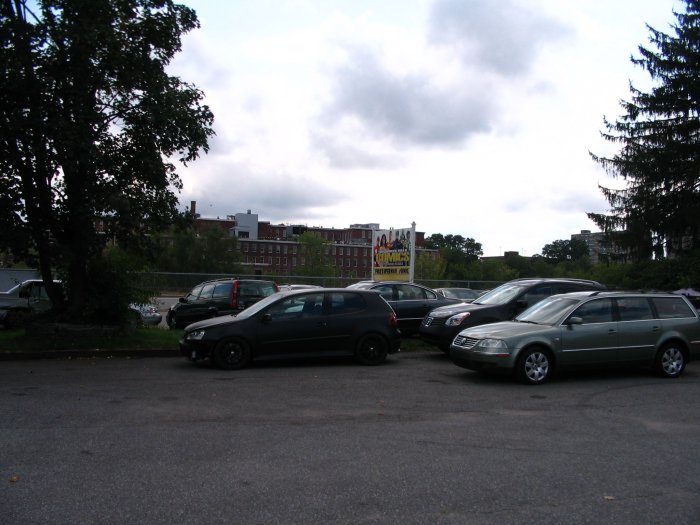 Fred: "Larry's Comic Store and Chop Shop was next on our itinerary. I'm not making this up. It's a comic store, and an auto body shop all in one. Two great tastes that taste great together... So yea, we're in a seedy part of Lowell."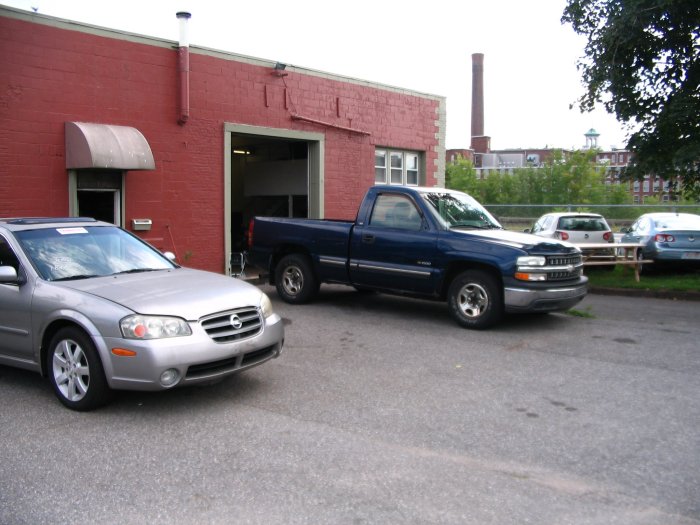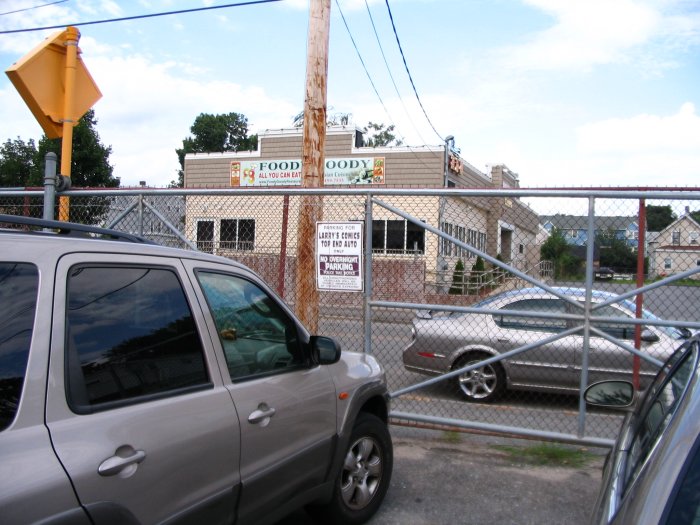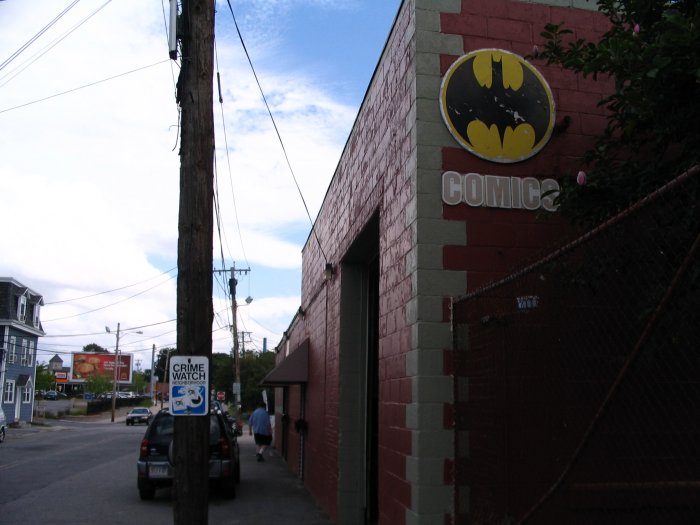 Fred: "OK, now how can you not see that last pic and not laugh? This is a Crime Area (bottom left) and the Batman logo (top right)? Heh? Heh?"

Lewis: "I know. A rich playboy in a bat suit always makes me feel safe."

Fred: "..."

Lewis: "Wait... that's not exactly what I meant..."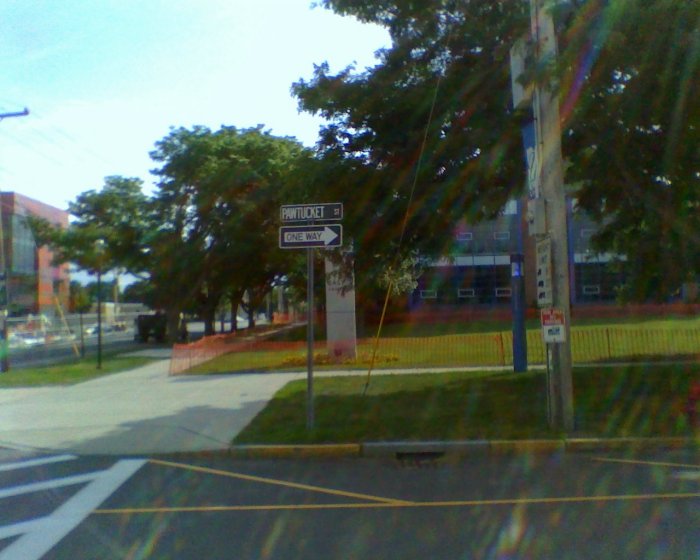 Fred: "Pawtucket St. Apparently, if you drive down this street long enough, you end up in Rhode Island. In actuality, this is the corner for the Stadium for the Lowell Spinners, the Single A team that feeds the Boston Red Sox."

Lewis: "This stop was for me, obviously. I needed to pick up the last two year's trading card sets. I don't get up this way too often. Nice place to see a game if you're ever in the area and waaaaaaaay cheaper than Fenway Park (but it's no Fenway Park... ). This was a highlight of the trip as I managed to pull a muscle in my shoulder trying to catch a receipt being carried away by the breeze. It hurt pretty much for the next week. Fun times."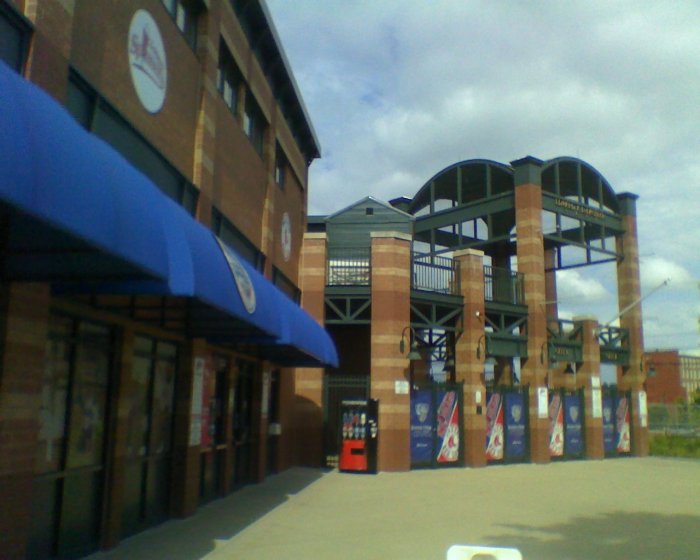 Fred: "I picked up the entire 2004 team card set for a buck."

Lewis: "That was not a great year for the Spinners."

Fred: "These will be handed out to everyone at Dairycon. :-)"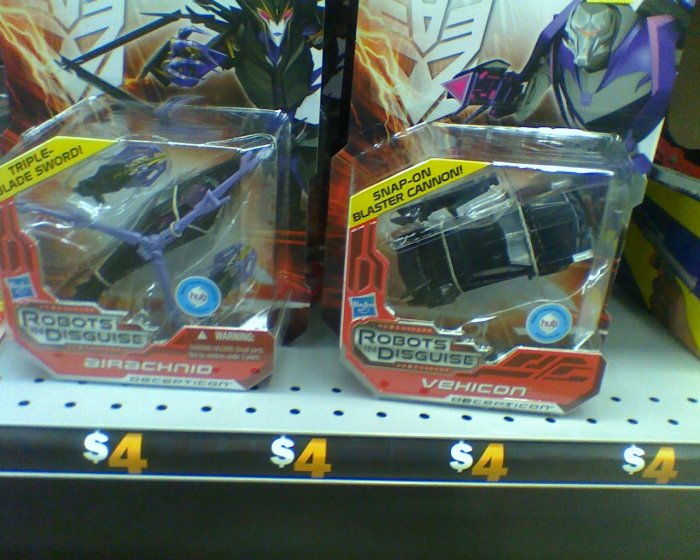 Fred: "The 5 Degrees Below store! I'd been to one of these in Rockford IL. If you like, go read the container store joke from earlier and insert it here. Same thing."

Lewis: "I like the $4 Airachnid. It's still way overpriced. But at that price, you can afford to run it over with your car, which would improve the toy immensely."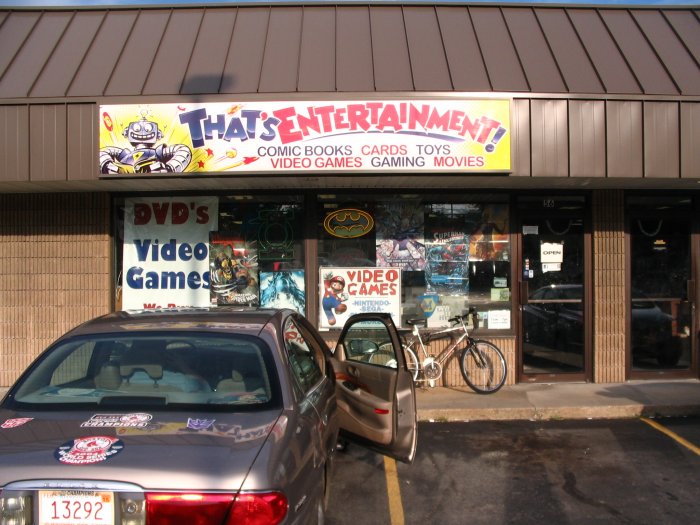 Fred: "Now That's Entertainment! This store is exactly like Westfield comics in Madison. I believe we were getting close to Worchester."

Lewis: "We were only about two hours later than I had planned. I don't think I'm ever going to Salem again. And it's pronounced 'wooster,' by the way."

Fred: "Yea, I pronounced everything wrong while I was there. That's ok: say 'lake butts des morts'."

Lewis: "No."

Fred: "There was a 14 dollar Inferno in the bucket, no accessories. He was left behind."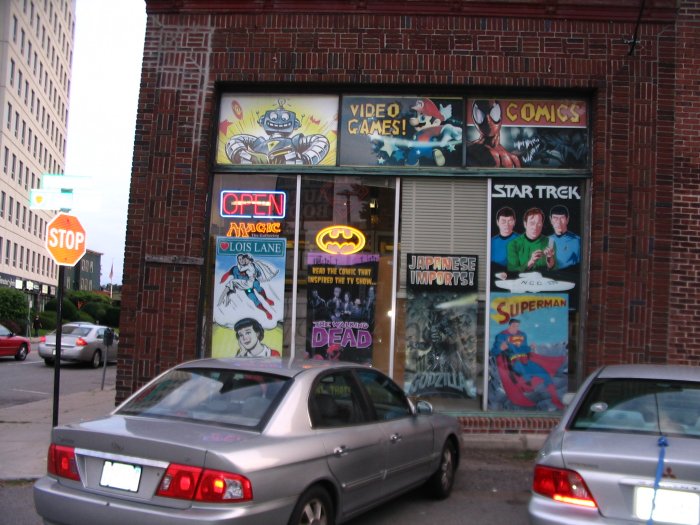 Fred: "Now That's Entertainment! Their other store. This one I like; the building is big, somewhat ramshackle, and crammed absolutely full of various cool things."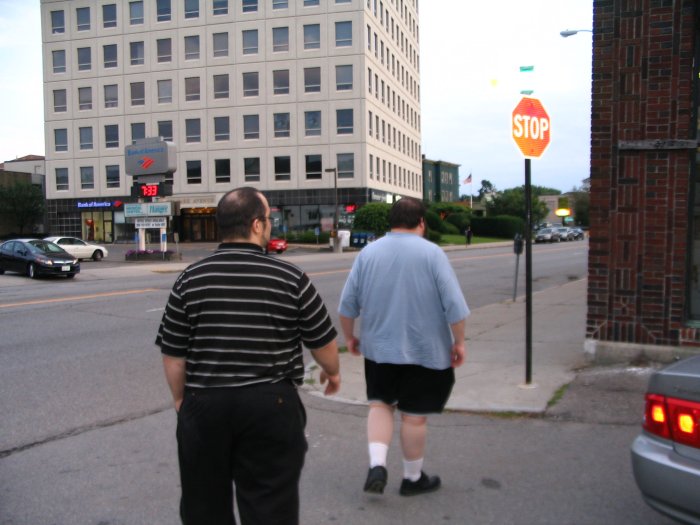 Fred: "That's Andres. He lives there."

Lewis: "He's the one wearing glasses. Otherwise we're pretty much interchangeable at this angle. (That was funnier in my head... )"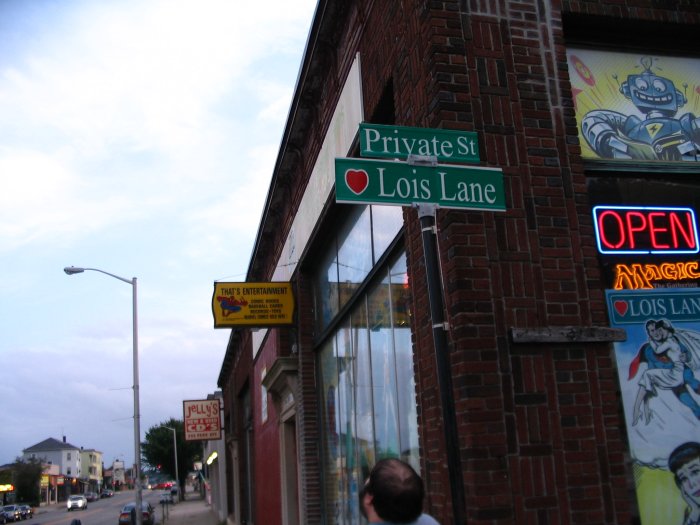 Fred: "That's a street sign. It's witty."

Lewis: "I would have called it 'Jim Roads'. Get it? I kind of love awful puns. The more awful, the more I love them."

Fred: "I have no memory of this, which must mean the psychotherapy is working..."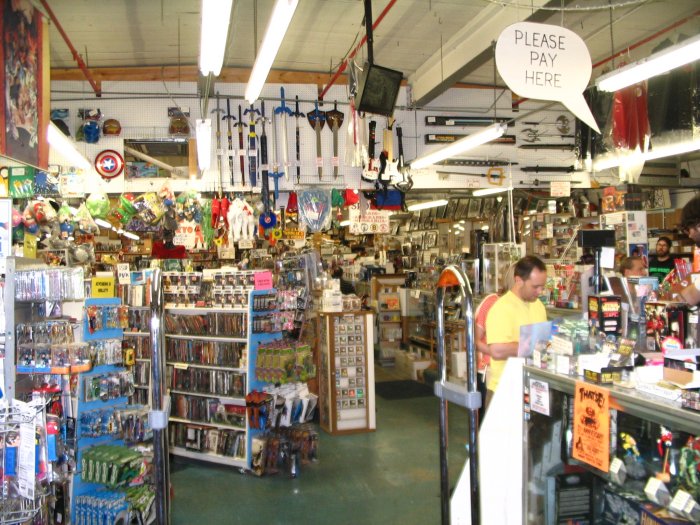 Fred: "That's the inside of the store. Click on the pic to zoom in. It goes a lot deeper than this pic indicates. (I suppose I like the store because it reminds me of what my basement used to look like, before the flood. *Sniffle*.)

Fred's Receipts - Thur 8-08-13:

Burger King, Danvers, MA
- Oatmeal, $2.99

Target, Danvers, MA
- Ballpoint Pens, $.90

Walmart, Danvers, MA
- TF Legends Prime, $9.99

Walmart, Salem MA
- Planters Nuts $3.49
- TF Legends (2), $7.00

Target, Salem, MA
- TF, $12.99

Harrison's, Salem, MA
- R2 Tin Candy Droid, $4.99

Target, Lowell, MA
- Tylenol, $3.68
- TF, $9.99

5 Below, Lowell, MA
- TF, $4.00

Walmart, Chelmsford, MA
- Mountain Dew (With Nickel Deposit), $4.25

That's Entertainment!, Fitchburg, MA
- Doonsbury Book, $.25
- Wasabi Peas, $2.99

Target, Framingham, MA
- Kreo Perceptor, $2.99

Walmart, Framingham, MA
- M & Ms, $.68

Burger King, Waltham, MA
- Whopper and Salad, $7.69

Fred: "On a personal note, everywhere I went, there was no French dressing. They don't *have* it anywhere in the state. Never heard of it. I'd ask, and they'd go 'huh? Did you say Ranch?' NO, dammit, I said French! I had to take balsamic vinaigrette every time. The pain and horror was unimaginable. I starved during this trip. Except for the delicious home cooked meals at the Cape. Yum."

Complete List of Thursday Shopping Stops.