Transmetal Garfield!


Yes, everyone's favorite tubby-tabby has a new look! A quantum surge from a microwave-heated Lasanga has transformed the fat-cat into a meched-out metal warrior! He is transformed!

Garfield comes standard-equipped with all these super-enhanced abilities: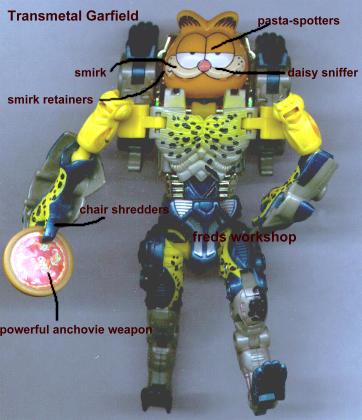 But don't worry that all this new power has gone to Garfield's head. Inside, he's still the same lovable cat we've always known: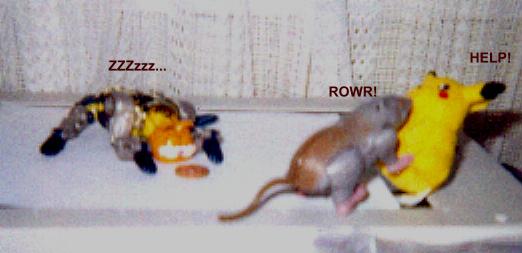 Affiliation: Himself
Name: Garfield
Function: None that we're aware of

Quote: "I'm Fat, I'm Lazy, and I'm Proud of IT!

Profile:
Garfield is a true (armchair) warrior at heart. Ever willing to tackle a buffet, Garfield stands ready to consume any food, anytime, anywhere.

Abilities:
In robot mode, Garfield can spot lasanga baking from up to two miles away. With one push, he is able to send small dogs off a kitchen table. He can mail a kitten to Abu Dhabi in under 2.5 seconds, and his powerful Anchovie Breath can knock over an 18-wheeler. In feline mode, Garfield can shred a chair with his powerful claws, which are also useful for hanging on window screens.

Weaknesses:
Garfield is susceptable to naps in feline mode. He is also prone to over-fueling, which can leave him immobile for hours.