I know there's a certain school of thought that say that, 'if it's Prime, it's sacred', but I remind these people of Energon Fatimus Prime.

Mech Tech is no different. When we finally get a movie that works, and some toys that work, they give us designs and gimmicks...that don't.

I can't help but to dislike the Ultimate Optimus Prime (or if you prefer, Optimus with flight tech). The toy is a poor execution. I mean seriously, it's as though they were doing so well with the line, then all of a sudden threw up their hands and said, 'we give up.'

So for fun, I thought I'd use current design practices, and slap together my own version of Mech Tech Optimus Prime. I will call this new series, 'Mech Wreck.' Borrowing design elements from various Primes, and utilizing about five minutes of my time, I've cobbled together a pretty sweet ride. Check it out: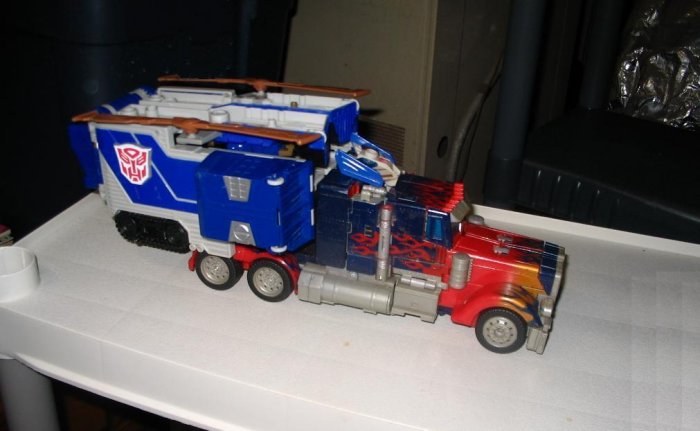 Yes, it's the Camper top of Doom! There's no practical reason to have an entire trailer when a stub will do. This contains everything he needs to take the fight to the Decepticons, and at the same time being more fuel efficient.