Allegiance: Legion
Faction: Jumpstarter
Name(s): Twinspin and Toptwist
Function: Legion Generals

Quote: "Resistance is Futile When All are One."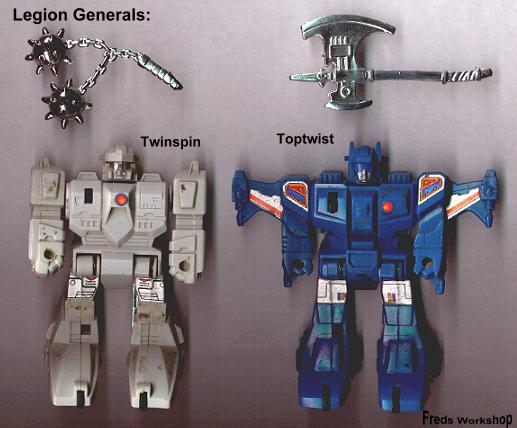 Profile:
Twinspin and Toptwist were created to oversee the many drones in LEGION. Like the Jumpstarters they control, they are of a pure technological construction, making them immune to the effects of Megatron's virus. Since their sparks come from a part of Toiletbots, they are immune to the effects of the spark extractor.

Abilities:
Like the Jumpstarter drones they control, Toptwist and Twinspin have the ability to rapidly transform from mode to mode. They are equipped with plasma blasters, cloaking devices, and are masters of ancient cybertonian hand-weaponry, making them deadly in battle.

Weaknesses:
Should anything happen to Toiletbot, Twinspin and Toptwist would be unable to function, as they share a portion of his spark. Therefore, it is their highest priority to keep him protected at all times, and to fufill the Great Plan.