Please fill in the blanks.

From the Hasbro Panel:
2009 Exclusives (TRU): G1 Insecticons, G1 Perceptor, ROTF Megs/S-wave 2pk.
2009 Exclusives (Target): Voyager class Fallen.
2009 Exclusives (Walmart): Masterpiece Starscream.
Animated Figures: Soundwave (Blaster), Arcee, Rodimus Minor, Cybmode Ratchet, Cybmode Ironhide, Fugitive Waspinator, Golfire Grimlock, Hydrodrive BB, Voyager Animated Blackout, WingBlade Prime, Thundercracker.
2010 Sneakpeak: ROTF Legends Wheelie, Soundwave, ROTF Scouts, Skystalker, Breakdown Scattershot, ROTF Deluxes, Lockdown, Ratchet, Dirge, ROTF Voyager, Jungle Attack Ironhide and Bludgeon tank, ROTF Human Alliance Barricade w/Frenzy.

From the Display Case in the Dealer Room (excludes crap listed above that already came out):
Legends: Grindor, Skids
Basic (Scout): Scalpel, Reverb, Dunerunner, unknown blue car.
Deluxe: Arcee, Stalker, Scorponok, Skids/Mudflap, Swerve, Jolt, Blazemaster, Deadend, Interrogation Barricade, Ravage.
Leader: Jetfire, Starscream.
Voyager: Stratosphere, Megaron, Mixmaster, The Fallen, Grindor.
Gravity Bots: Boltbumblebee, Mudflap, Skids, Sideswipe.
Battlechargers: Sideswipe, Bumblebee, Optimus Prime.
Target Exclusives: Superion, Bruticus Maximus, Whirl vs Bludgeon.
Huge 'Combiner Class': Devastator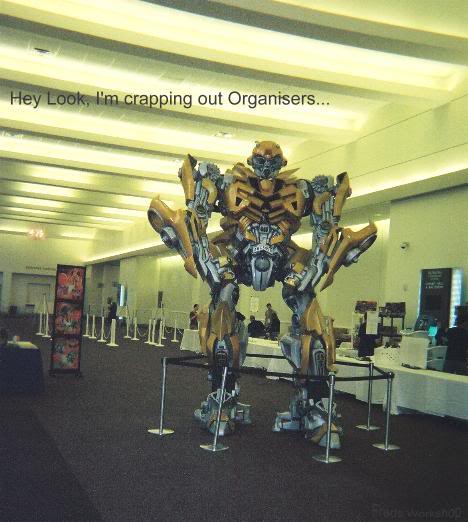 After the first couple of days, I went back to the store, and they were wiped *out*. Someone is actually buying this crap. You've already read my numbers breakdown for the show in a previous missive (the costs were spot-on for me, btw), so I won't repeat them here.

I did picks up a Bumblebee. After 25 years of transforming toys, they finally made a toy delicate enough to break apart on the first try. I broke, *broke* off his head, arm, and leg. Lost the shoulderpads, too. So the hell with this crap.

Anyways, back to the show...I was in line from 7pm to 1am. The lines were stupid-huge. They processed so few people at a time, it's a wonder those poor staff didn't quit. On the upside, I met a nice girl who claimed she was from Australia, so maybe Bricks can look her up when they have a fancon again...just watch out, her father is mighty suspicious of men. :-)

The Box Set: I was cheated out of a cyberplanet key. Scourge falls apart when you look at him.

Loose Sets: Well, lessee, they wouldn't let me buy but one Sweeps set, but they're all the same...except for the techs (2, 4, 6), so speculation runs rampant that they'll be a 3, 5, 7 somewhere. Dunno, they all look the same, so I'll likely split apart the Sweeps and keep the techs. As for the rest, well, Razorclaw is interesting. I don't like the way his mane attaches to the head. The jets are neat, but the techs for those just plain suck.

A lot about this set was pure suck. Still took it home.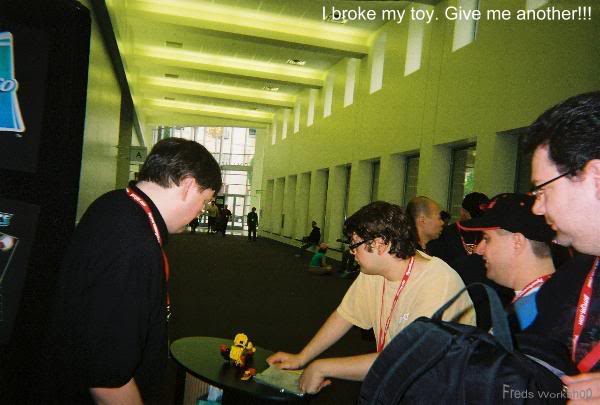 The Dealer's Room: Thankfully empty during dealer setup. I was able to visit with a few old friends. It was horrible when the rabble was let in; couldn't maneuver to save myself. Got to the point where I stopped saying excuse me, and simply started bullying and pushing to get the hell out. The unwashed masses inside of a too-small room. Is it just me, or did they really tear down a grand old hotel and ballroom for this pseudo-corporate look? The room seemed smaller this year...

So... I went to all the panels instead.

That was a hoot. Wierd Al and some other guy, who I found out voices the enzyte commercial (and BW Megs, and Animated Prime...). They did an erection commercial for TFs, among other hilarious things. They handled the crowd well; good thing, because some of the people that went up to the mic...look, everyone, even the developmentally disabled, deserve a chance, and they did make up for their delivery by asking some interesting questions...nonetheless, I cringed, yet these gentleman executed responses with style, grace, and a ton of humor.

There was a writer's panel for the ROTF movie. They were well-enough spoken, slightly arrogant, and at least one of them plays for the other team. Oh well. Nothing informative.

Hasbro Panel: In-addition to a crapload of useless crap toys we'll see this year, they basically said they felt fan creations (Fansproject was mentioned specifically) now infringed on their intellectual property copyright, and they were going to start cracking down on these things (like they did the Hasbro KOs from China). Yeah, good luck on that, buddy. Piss off the fans even more. I'm not sure that snap-on accessories made in Japan can be cracked down on...though I suppose entire toys could be a grey area. As long as they don't make an entire TF, you'd think they'd be ok. Guess someone stepped over the line. I can tell you how this will turn out (Fred pulls down volume x of copyright law) but I suspect you already know...

Makes me glad we do things for parody purposes.

When I was in the dealer's room, I got two specific items that, now that I've had a chance to document them, it's well past time to get them into someone else's collection. Those pics will be further below. It's uber promotional G1 marketing poontang. You know you want it.

I apparently got hit on while I was at the show. This was explained to me after the fact. It was day three, I think, I was really tired, one in the morning, and I just wanted to get back to the room and sleep. So I apologise to that gal for not being more sociable. I was ignoring you because I was tired, not because you were ugly. If I'd have been more awake, I'm sure I would have done you.

OK, she was ugly.